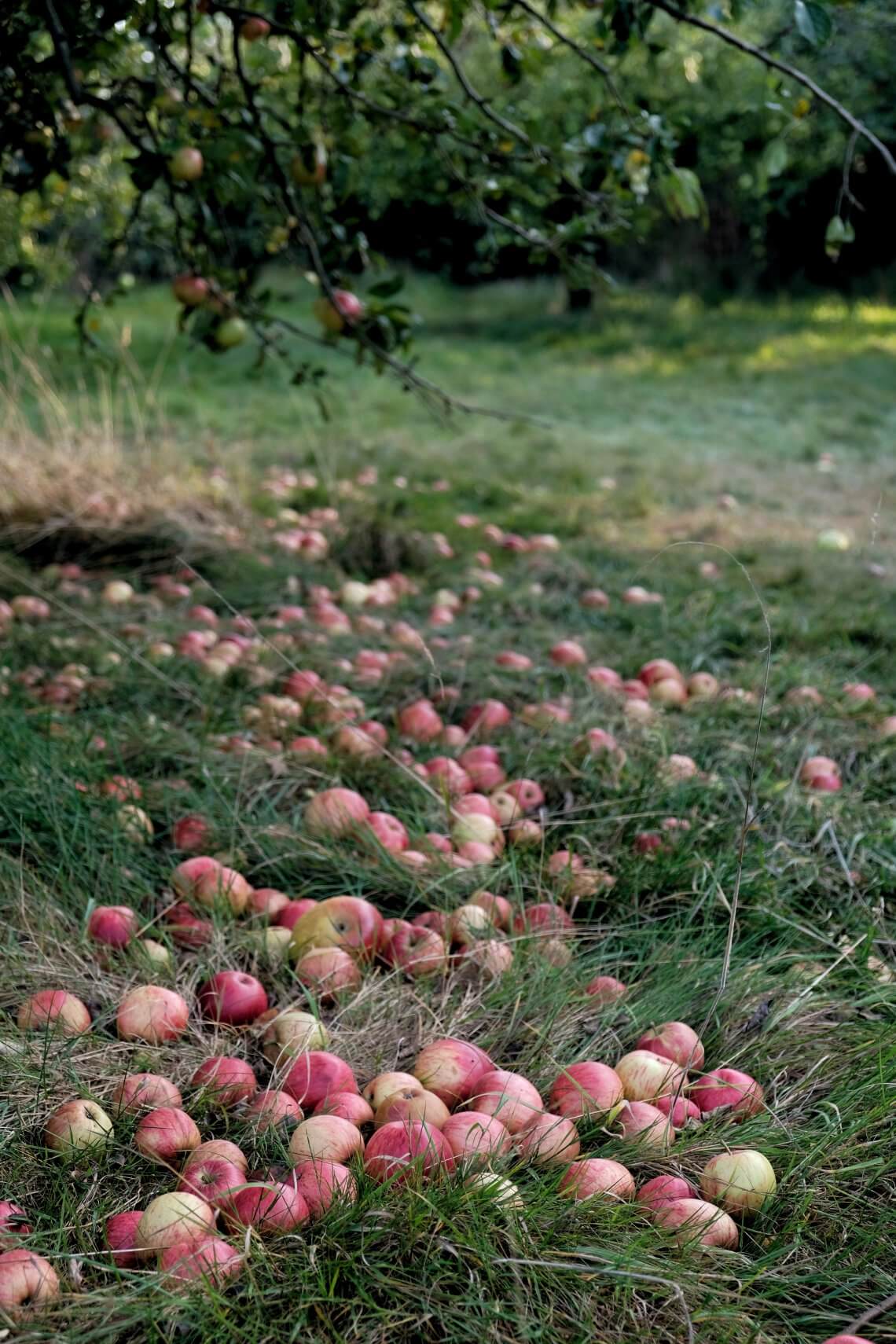 Life, apples and cinnamon crepes: An afternoon at Home Cottage Farm
Since Ben came along, and we decided to raise him in London, I have been determined to make sure we regularly get out of town to breathe, run and get muddy. Although we are very lucky to live near some beautiful parks, and the expanse of Kew Gardens isn't far away, the hum and roar of road and Heathrow traffic are frequent reminders of the pollution we are exposed to here. Air quality aside, I want him to feel the freedom of isolation as much as the buzz of the city, and to learn that food doesn't just magically appear on the shelves of a supermarket, flawless and plastic wrapped.
Anyway, the week before last gave us the sort of bright days that lull you into the false promise of an endless summer. On the last of these days, unfortunately, we weren't feeling so cheerful. It hadn't been a great day. Honestly, it hadn't been a great summer. lllness, a hospitalisation, work stresses and various other challenges had left us feeling a bit defeated and kept us from our hopes of adventure outside the M25.
I had been keen to take Ben apple picking for a while and thought it might help us out of our funk. We gathered our baskets and wellies and set off for Home Cottage Farm, a family venture growing apples, pears, plums, blackberries and raspberries. After a chat with the lovely owners, a thorough lick from their dogs and a short walk past a fabulously creepy barn, we found a beautiful apple orchard, empty except for a few escapee sheep from the neighbouring field.
We roamed amongst the trees, the only sounds the soft thud of falling apples and an occasional baa. Once the basket was full we ran races (somehow the one with the littlest legs always wins) and played a few rounds of hide and seek. The low sun cast a honeyed glow over the orchard, and the air was so thick with sugar and fermentation that it felt like breathing in cider.
Walking back up the drive to pay for our spoils, I felt more optimistic than I had for a while. Perhaps it was mostly down to the prospect of apple crumble in my future. But there's certainly something deeply restorative, for me at least, about time spent surrounded by natural beauty with the ones I love and a camera in my hand.
Back home, the fruit drawer is so full it groans slightly when I open it. I'll make a crumble of course, but for something a little flashier I thought a bit of apple, spiced and caramelised, would go nicely with some cinnamon crepes. There will need to be custard too, obviously. This recipe makes 8 crepes around 22 cm in diameter. Let me know if you try it!
Apple stuffed cinnamon crepes
For the apple filling:
3 medium-large apples
3 tablespoons soft brown sugar
1.5 teaspoons ground cinnamon
2 teaspoons butter
For the crepes:
110g plain flour
30 g soft brown sugar
2.5 teaspoons ground cinnamon
A pinch of salt
2 large eggs
200ml milk mixed with 75ml water
50g unsalted butter
Peel and dice the apples. Place in a pan with the butter, sugar and cinnamon and cover.
Cook on a low/medium heat for around 15 minutes, stirring occasionally and uncovering half way through (if you're showing off you could flambé with a splash of Calvados at this point).
Once the apple is tender and any liquid has evaporated, set aside to cool.
To make the crepes, sift the flour, sugar, cinnamon and salt into a bowl.
Crack both eggs into the bowl and whisk to combine.
Slowly add the milk and water mixture, whisking continuously and scraping the sides until a thin batter forms.
Melt the butter in a small pan and whisk two tablespoons into the crepe batter. Set aside the remainder.
Spoon a small amount of the melted butter into a crepe pan or small frying pan over a low heat.
Using a ladle, add some batter to the pan, swirling to ensure thin, even coverage across the base.
Turn the heat up to medium and cook for 1-2 minutes each side.
Repeat until you have a stack of 8 crepes, each time lowering the heat to add the batter then increasing to cook.
To fill, fold two opposite edges of the crepe towards the middle (about 1 inch). Along 1 unfolded edge spoon a line of apple filling then roll towards the other edge.