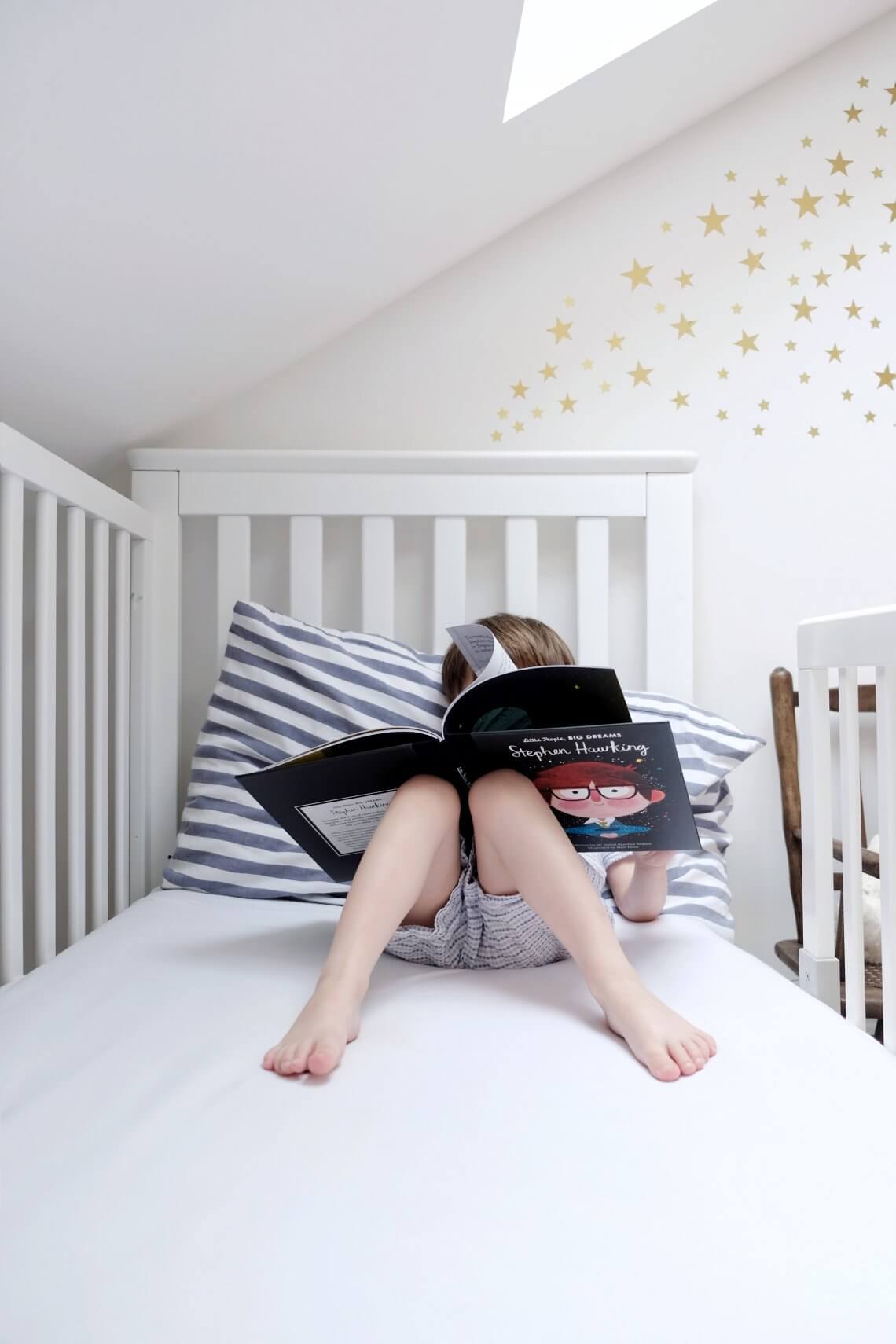 Books about space for children
I've always had a bit of a book problem. Attempts to streamline my collection were thwarted when my son's arrival compelled me to amass an embarrassingly large number of children's books. I thought it might be fun to share our favourites in a "book club" series with themes around science and the natural world. Given today is the 50th anniversary of the Apollo 11 moon landing it seemed appropriate to start with space.
First books about space for toddlers
These books give simple introductions to the moon, our solar system and space exploration. Solar System is an ideal first board book for babies and toddlers. It gives a really simple overview of the planets with bright, engaging images, and is robust enough to withstand the most enthusiastic of page turners.
Moon was the only bedtime story my two year old accepted for several weeks last year. The illustrations reveal a magical nighttime world beneath a gleaming moon that waxes and wanes throughout the book.
Goodnight Spaceman was inspired by ESA astronaut Tim Peake and his sons. This is a sweet story that follows the two little boys on an imaginary adventure into space to see their Dad. A couple of reviews expressed disappointment that all the characters were male and the term "spaceman" perpetuates gender bias. I absolutely agree that all children should feel represented in literature but it seems a bit unfair given that this story is written about an actual person and his children, who all happen to be male. Both female and male astronauts are depicted working on the space station. Book Bairn has some great suggestions for space books with female protagonists.
Books about space for preschoolers
What Are Stars? and Peep Inside Space from Usborne are perfect books for expanding minds. Vibrant illustrations are coupled with plenty of kid-pleasing flaps and simple yet informative text.
Part of the Little People, Big Dreams series, this book on Stephen Hawking is a charming introduction to one of the most extraordinary minds of the 20th century. Obviously, the concept of Hawking radiation is a bit beyond the comprehension of a 3 year old. The real values lies in the illustration of what is possible when we focus on what we can do, not what we can't.
Books about space for school-aged children
Questions and Answers About Space gives a more in-depth overview of the topic through a series of lift-the-flap questions and answers. This is a great one for kids in the first few years of primary school when they are becoming increasingly inquisitive.
I love the Welcome to the Museum series and am so impressed with Planetarium. The text is quite advanced so this is one for older children. Despite this, all ages will appreciate the breathtaking illustrations, created using a digital version of engraving. This would make a beautiful gift for a future astronomer.
Follow me on Pinterest for more ideas (click the icon at the top right of this site) and keep an eye on my instagram for a little giveaway over the next few days. While you're there, tell me your book recommendations! There's probably room for a couple more…
Affiliate links are used in this post. Science Mama is a participant in the Amazon Services LLC Associates Programme. As an Amazon Associate I earn from qualifying purchases.